Short biography Zhenfang Zhang
Chinese Violin Er Hu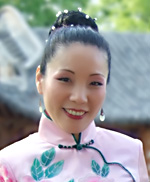 Zhenfang Zhang was born in Zhengzhou, the capital of Henan Province and began to practice the Chinese Violin Er Hu at the age of nine years.
In 1984 Zhenfang began to study at Bei Jing Central Conservatory of Music, having excellent entrance examinations.  Professor Shao Zhang and Professor Jang De Xu trained her excellency and art of playing the Er Hu. She also specialized playing the seven stringed traditional Gu Qin with Maestro Xian Ting Li.
Already in 1990 she won the Excellent Player-Award of the Bei Jing Music Competition for Modern Music.
In 1991 Zhenfang came to Germany and started to successfully give concerts all over the European Continent. Many Radio and Television Broadcasting Events documented her inspiring and individual tone and appearance.
Since 1992 she performed many individual programs with  Xu Feng Xia. The  Gu Feng Ensemble saw her on stage with three more Chinese Soloists living in Germany.  She featured in Concerts at the Music Festival of Athens, The Seoul Music Improvisation Festival, Bavarian Broadcasting Station and the Gasteig or playing Er Hu Solo with the Stuttgart Chamber Orchestra. Since 2006 she plays Duo Equinox with the classical guitarist Andreas Großmann, "Equinox" being the title of a first performance of the German composer  Susanne Erding-Swiridoff in 2006.
Zhenfang's collaboration as a Er Hu Soloist with orchestras is multifold and includes the Bavarian Broadcast Orchestra, Munich – The Stuttgart Chamber Orchestra – The Duisburg Philharmonic Orchestra -The Dresden Philharmonic Orchestra – The Berlin Philharmonic Orchestra – The Manchester Philharmonic Orchestra – The Berlin Philharmonic String Quintett – The Emilia Romagna Music Festival Orchestra.